This post is in partnership with Lowe's. 
This week, we are so excited to share our finished kitchen and mudroom with you! Both rooms were completed a handful of weeks ago, and we celebrated with a bottle of wine and a big pasta dinner. (Is there any other way?) We dreamed up the design with our friends at Lowe's, and we've been sharing the process from start to finish over the course of more than 5 months. While some of the initial work was hired out (replacing drywall and updating electrical), the majority of the heavy lifting was done by us, our family and friends. A mostly-DIY-renovation of this size takes time, patience, late nights and early mornings. There are good days and bad days, and within that 5 month timeframe, we gave up a lot of weekends, too. But our overall goal of sharing every step of the way – aside from having two pretty, functional spaces, of course! – has always been to alleviate some of the worries that any of us may have when it comes to tackling a whole room renovation. With realistic expectations and an open mind, anything is possible. Remember to be creative, go with your gut, and (note to self) cut yourself a break from time to time!
Follow along with our Lowe's experience from the beginning:
our initial design meeting | how we pieced together panels + fillers | how we shopped for durable countertops | how we built thick floating shelves | our DIY subway tile backsplash
Both rooms have already drastically improved the way we use our Tree House, but today, we're going to focus on the mudroom transformation. Walking through the door with two leashed dogs, a baby in a car seat and muddy shoes from our dirt pit, ahem, yard, is always a challenge, but this room has already proven to be a workhorse. Living in a part of the country that has four seasons (sometimes all in one day, ha!), a good mudroom is such a special treat to have in your home, and we treat it as such. It's the first space you see upon entering Tree House, and from the start, we knew we wanted it to set the tone for the rest of the home.
During our first walkthrough, I remember asking Scott, Don't you think this room would look so much better with floor to ceiling cabinets? A place to hide All the Stuff? Our realtor quickly let us know that there was a huge water heater inside one of the existing closets, and our hearts sank – but only for a minute. That not-so-little obstacle resulted in us reorganizing the entire HVAC system (or lack thereof), and it was worth every minute of head scratching and problem solving. In addition to the water heater obstacle (formerly in that far left closet, below), it was also home to a large coat closet, laundry units and vinyl flooring. The drywall stopped a couple of feet short of the ceiling, and moisture was coming through an old, unused chimney that was improperly capped. Remember? (PS: All room sources are listed at the end of this post!) 
The Mudroom Before
The Mudroom Now
View From Kitchen After Demolition
View From Kitchen Now
Our mudroom has a lot of responsibility; not only is it a mudroom in the traditional sense (think: the place where we stash our work boots and wet umbrellas), but it's also an extension of our kitchen and our laundry room! We chose Kraftmaid cabinets from their Diamond line in the Cayden style, Dove White with a 'Suede' finish. The finish has a low satin sheen (as opposed to something glossier), which is still easy to wipe down, and you can see that we took the cabinets all the way up to the ceiling. We completed the look by trimming the top with common pine 1-bys to seal up the gap, which results in a more built-in, custom finish. Behind the bench area, we added a maple panel to mimic the look of our kitchen island, which helps tie the two spaces together.
From left to right, that far tall cabinet is now our pantry with a right hand outswing, making it accessible from the kitchen. The bench acts as a resting zone to tie up your laces, and to the right of the bench is our stacked washer and dryer! We added this cute small sconce above the bench for additional lighting, and we put it on a dimmer. (It really is the little things that can make all the difference!)
The bench has two deep pull out drawers, and we're currently using them to stash our baby carrier, dog harnesses and laundry supplies. We had a custom cushion made in a removable Sunbrella fabric for easy washing, and Scott has officially declared that this will be the favorite nook of our nieces and nephews, and one day, sweet Lucy!
On the other side of the room, we painted the door the softest shade of pink (Valspar's Pinkwash, and we couldn't love it more!), because we both agreed that you can't not smile when you see a pink door. I picked up an old horseshoe on Etsy, and Scott tacked it up as a U, which holds in the good luck!
We rolled out a crazy durable outdoor rug to fill the room, and this has somehow turned into our pups' favorite place to nap. (Does anyone else have dogs that lose their minds over a new rug? To be fair, I could put myself in that camp, too.) Next to the door, we mounted two cast iron hooks for leashes, and we hung a simple black metal mirror which pulls double duty, because it also hides our electrical panel!
A hollow pocket door divides the mudroom from the kitchen, and we debated replacing it with a heftier solid wood door, or perhaps a door with a large glass panel. In the end, we opted to save in this area, and we fixed it up with a fresh coat of paint (also Pinkwash) and this inexpensive hardware in an oil-rubbed bronze finish. Those quick changes made the once-dated door look shiny and new again!
Let's wrap this up with more before and afters, because this small room (it's about 8′ x 8′, for reference) has been improved ten-fold. It's The Little Room That Could. Oh, mudroom, you're such an important part of our home.
The Mudroom Before
The Mudroom Now
View From Kitchen Before
View From Kitchen Now
Hover over image below for shoppable links: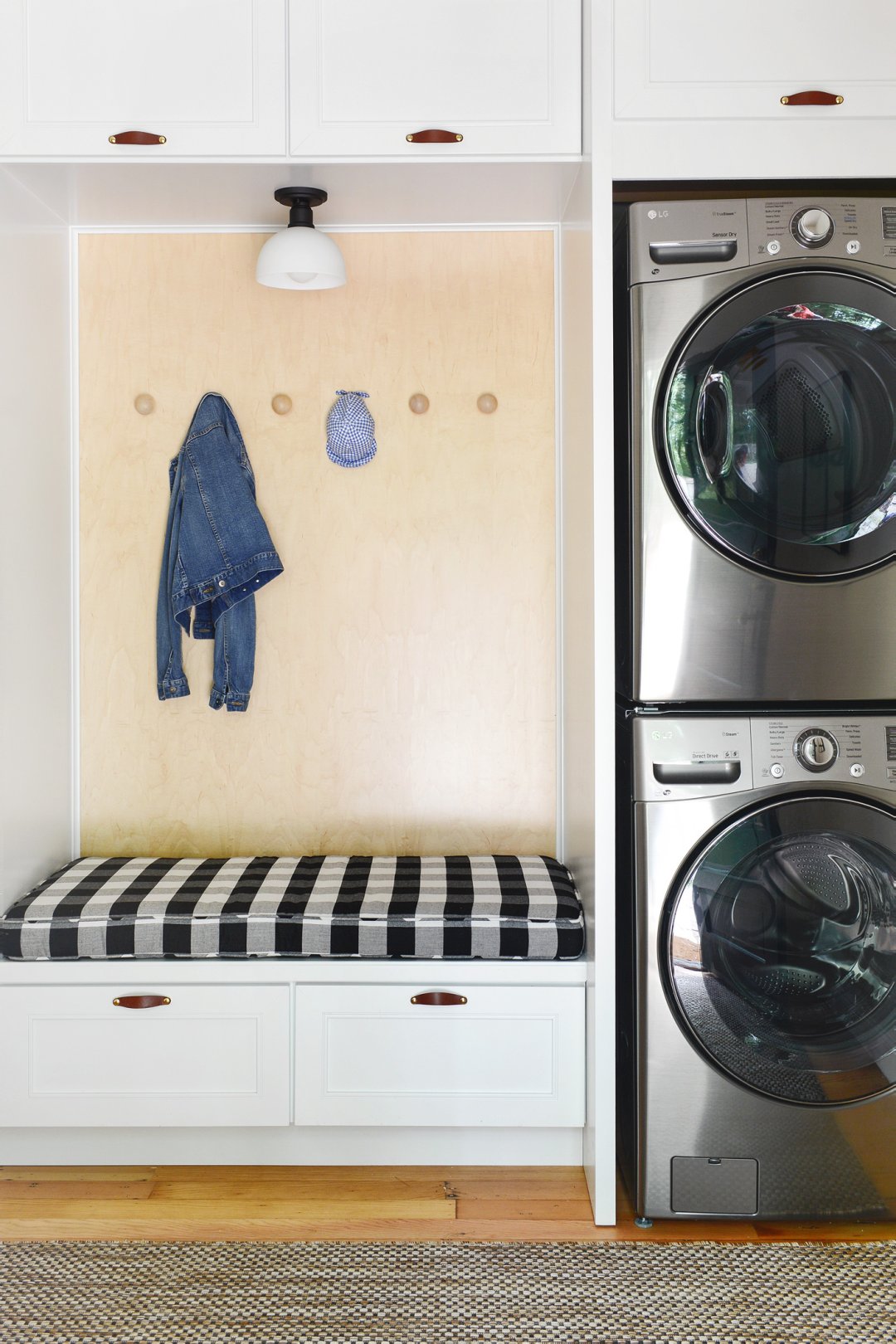 Here's a peek into the kitchen, and we'll be sharing the full reveal soon!
Mudroom Sources:
front door color: Valspar Pinkwash (inside), Sherwin Williams Black Magic (outside) | Kraftmaid cabinets | LG washer | LG dryer | bench light | ceiling light | outdoor rug | shoe basket | DIY ball hooks | leash hooks | horseshoe | letterboard | leather hardware | outdoor bench cushion | step stool | dog leashes