This post is in collaboration with Lowe's. 
Our tenants moved out of the garden apartment around late April, and immediately, we dove in, gathering quotes and meeting with contractors. We needed to come up with a (somewhat loose) schedule in order to plan for what we hoped to be a 2-3 month renovation, and we quickly locked in our favorite general contractor and new-to-us tile installers. While the first month of the renovation would be handled by professionals, our plan was/is to swoop in and finish up by building out the kitchen, laundry room and bathroom – and maybe we would treat ourselves by hiring out the fresh paint job (here's hoping!).
Not even one day after we filmed the garden tour, tile installation began! It was exciting and scary, and we overthought every detail leading up to it (who, us?). We considered everything from luxury vinyl planks, wood look tile and polished concrete, and we discussed the possibility of heated flooring, too. To help with our decision, we spoke directly to the source – our former tenants! We asked them if they ever felt that the original tile was too cold, and they let us know that, hand to heart, it never bothered them; it was nice and cool in the summer, and they were always in stocking feet through the winter anyway. We took their response to heart, which allowed us to (somewhat hesitantly) nix the heating element. Between the cost of the heated sheets alone and the electrician to install thermostats in multiple places, this would save us thousands.
As a result, we considered luxury vinyl planks (LVP), if only because the flooring stays closer to room temperature, and it would make for a less expensive install than tile. We gave LVP a hard look. Vinyl has come such a long way, and there are a lot of options out there that had us fooled into thinking they were actual hardwood! (House of Hipsters was a big inspiration here!) If this was our own personal space, I think we might've landed on LVP. It has a reputation of holding up well to everyday traffic and pets, but in the end, we cringed at the thought of future tenants pushing their 200-lb couch across the floor, leaving behind permanent dull scratches (or worse). Asking anyone who signs a lease to use felt feet on their dining room chairs didn't seem very sane either! When it comes to rental units, we have to assume the worst and hope for the best.
Polished concrete was eliminated almost immediately. Not only did we have the most difficult time hunting down residential contractors to take on the job (let alone provide us with a quote), but we also craved something with more warmth – and so, wood look tile won out in the end! Sample tile collecting ensued.
We searched high and low for the perfect shade; not too yellow, not too red, and nothing too dark or too light. We were looking for the Goldilocks of flooring, something affordable but not cheap, made from durable porcelain (not ceramic). After our flooring contractor's initial walk through, he added one more stipulation: No tile longer than 30″. This was recommended based upon the amount of leveling that our floors needed, and the shorter the length, the less change of future cracks.
At first, our search was restricted to specialty flooring shops – Lumber Liquidators, Floor & Decor and local tile outlets – and then we had our aha! moment! Do you remember the flooring we had installed for Akiyo's family during last year's Lowe's Spring Makeover? It fit all our criteria – 6″ x 24″ in a soft wood tone and an inoffensive traditional style, and it was less than $2/sq. ft.! I texted with Akiyo and asked her if she was still loving her tile, and she couldn't sing its praises enough. Done. We chose the same brand and style, but in a slightly different colorway. The winner? Style Selections Serso Wheat wood look tile from Lowe's:
Lowe's has been such a strong support system for our wild renovation ideas over the years, and they were just as excited to work with us on this project. We ordered 950 sq. ft. of tile for our 850 sq. ft. space, and we chose this Summer Wheat sanded grout for the most natural look. We felt confident in our decision based on Akiyo's family room makeover, and when everything arrived (we used Lowe's home delivery service), we were practically bursting. We called up our tile installer (these guys), and they were at our home a few weeks later to kick off the demolition of the existing, mis-matched 12″ x 12″ ivory tile:
In total, the tile installation took seven days, with the shortest work being the demolition! By the end of day one, everything was torn up and hauled away, with only a few stubborn areas left in the kitchen:
The next two days were spent leveling and leveling and leveling. Until our former tenants moved out, we had almost forgotten how bad the floors were. During our final walk through, I remember walking out of the bedroom and into the living room, and I felt like I had walked up an incline! The whole apartment sort of sunk in the middle (not surprising, since our floors are similar), but the tile team worked miracles. Along the wall where the bedrooms meet the living room (parts of the kitchen, too) received the most amount of leveling compound, but by the time they were done, we couldn't believe how even the floors were.
Finally, it was time to tile! We asked for the smallest grout lines possible, and they were able to go just slightly under 1/8″. I initially thought this meant we could have gotten away with unsanded grout, but they let me know that they preferred sanded grout for durability on the floor.
By the end of week one, the tiling and majority of the grouting was complete. The final two days were spent finishing the grout, cleaning up supplies and wiping off the grout haze. The bathroom is only partially finished, because our general contractor still needs to swap some plumbing, and afterwards, the tile team will come back and quickly finish up that last room!
We can't get over how much the flooring warms up the space. That was our goal all along, but it really is the foundation for everything that comes after! Hover over photo below for direct links to product: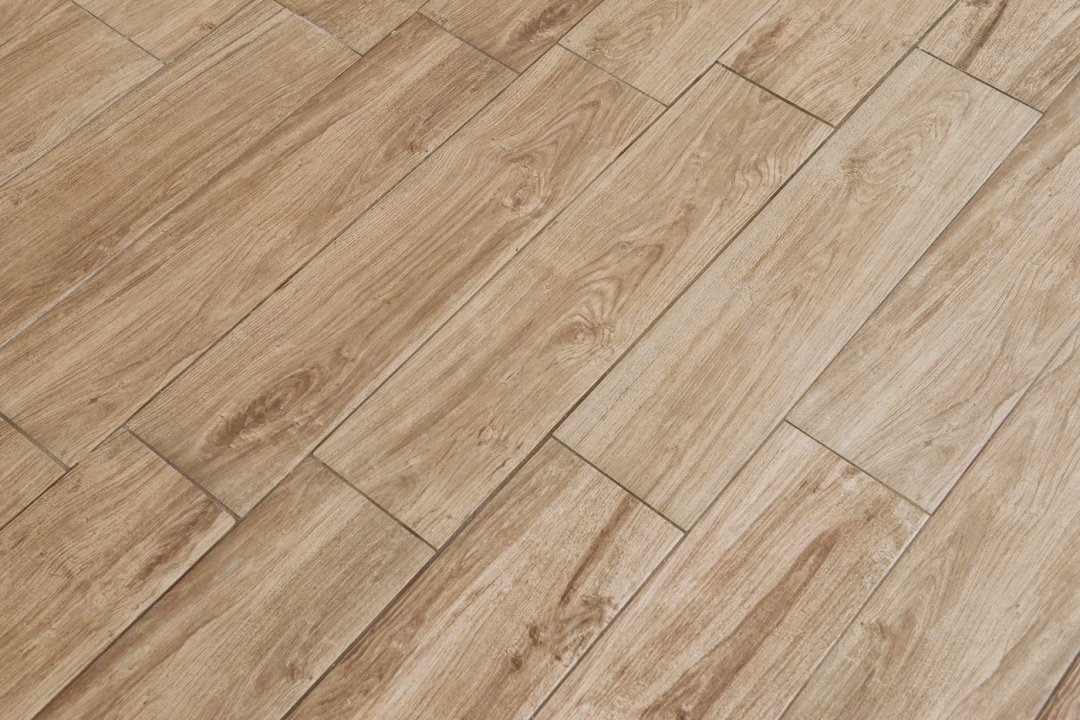 Let's zoom in on the perimeter of the room. The baseboards stayed mostly in tact, although the extensive leveling made some of the boards look too low. We've already ripped those out to replace with new, but for everything else, we'll need to install quarter round to cover up the small gaps. To be honest, we were impressed with how close they were able to get to the edge of the room, and in some cases, right up under the existing baseboards! Here's a good snippet of how it looks right now:
This has already made a world of difference, but the best part is that things are only getting started down there! So much of what you're seeing in these photos is changing – and soon! Think: Recessed LED lighting, all new doors, fresh paint on every last surface, and oh yeah, a brand new kitchen, laundry room and bathroom.
We can't wait to share the progress with you as it unfolds!
We used Style Selections Serso Wheat wood look tile and Summer Wheat sanded grout. A huge thank you to Lowe's for partnering with us on this project, and the same to you for supporting the brands that support us!